The statement put out by Louis van Gaal upon leaving his position touched upon his work for the future of Manchester United. Van Gaal, for all his shortcomings, has created a more than adequate foundation for Mourinho to build on and with considerable financial backing the Portuguese manager will hope to be the architect of much success.
Jose Mourinho brings with him relentless competition. The Egotistical nature of the 53-year-old almost suits Manchester United perfectly with both sharing a need for success. Often a platform for greatness, Mourinho's adaptable tactics have broken countless records and led to glorious triumphs across the continent however his controversial slurs and problematic relationships are the main stumbling blocks when it comes to expectations at Old Trafford.
There are many questions fired at Mourinho and these are questions which he will hope to emphatically answer.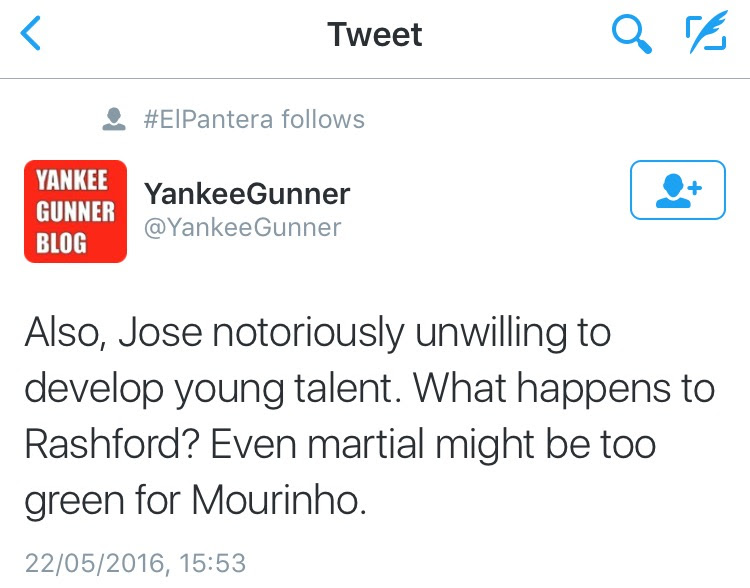 His commitment to youth, his style of play and his temperament have all come into question from those affected by his Manchester United occupancy. In terms of youth Mourinho has given abundances of game time to several young players but the list does not go on for long. Davide Santon and Mario Balotelli featured often for Inter whilst Varane, Morata and Zouma have seen regular minutes for Real Madrid and Chelsea respectively. There are well known examples of Mourinho discarding young players however he has helped numerous youngsters to develop including John Terry and Eden Hazard in separate spells with Chelsea. Perhaps a lack of trust in academy graduates, Mourinho is focused on results and this could cause problems within the Manchester United hierarchy. However when Mourinho first won the league with Chelsea in 2004-05 he did so with the youngest average age of any side in Premier League history, under 26.
Adam Bates (Sky reporter) wonderfully describes the debate surrounding the style of play Mourinho exhibits as "a curious criticism." As stated above his tactics are adaptable, dependent on situational factors and selection issues and have broken records wherever he has been.
https://twitter.com/hammer_lee72/status/734709264321773568
Mourinho's Porto team were well known for their pressão alta (high pressure), not allowing their opponents time to pick their passes. The combativeness of Costinha and Ricardo Carvalho among others allowed Porto to press from all areas of the pitch whilst the creativity and guile of players such as Deco and Maniche gave them a cutting edge in attacking play. The Chelsea side of 2004-05 included the likes of Arjen Robben, Damien Duff and Joe Cole who were allowed to potently express themselves in Mourinho's set up. An inspired Zlatan Ibrahimovic and a mesmeric Wesley Sneijder allowed Inter to often control tempos and create moments of magic. Real Madrid's counter attacking play during Mourinho's reign was a sight to see with Mesut Ozil, Cristiano Ronaldo, Karim Benzema and Angel Di Maria leading the crusade against Barcelona. His most recent Chelsea side consisted of Cesc Fabregas, Diego Costa and Eden Hazard; all masters of their trades and allowed to utilise their skills for collective glory. Mourinho's tactics are interchangeable but the constant features are a solid defence and a tendency to hold back in big games. But when all is on the line is it worth the risk.
Jose Mourinho has the gift of being controversial and his behaviour is not appreciated by all – Sir Bobby Charlton once publicly stating that "He pontificates too much." His actions on the touchline are said by many pundits to be a catalyst for Chelsea's downfall last season however this remains to be seen. Incidents such as the infamous eye gouging on the late Tito Vilanova and the falling out with the club hierarchies at both Chelsea and Real Madrid back up the reputation surrounding him and provide good reason for Manchester United fans to worry. Falling out with big characters may be a by product of Mourinho's quest for success but fractured relationships have huge effect on the dressing room. However these incidents do not constantly occur so those high up in the club may be hoping for a change in attitude with Mourinho reportedly refusing to accept a behavioural clause in his contract.
It has been reported that players would like Mourinho to challenge Woodward over commercial demands with the Daily Mail claiming "After they suffered that crushing 3-2 defeat at West Ham at the end of the season, the players had to report to Old Trafford the next morning to drive miniature Chevrolets around the car park." A sole focus on football will be the aim and with Mourinho at the helm it will more than likely be the outcome, his clubs often breaking records for incredible seasons.
His Porto side scored more goals than any other Portuguese time during his reign and when he won his first Primeria Liga title it was with a record breaking, at the time, 86 points from 102. His move to Chelsea helped the London club win their first top-flight title in half a century, setting records for the most points ever achieved in the Premier League and the fewest goals conceded during a campaign.Inter became the first ever Italian club to win the treble, outscoring every other Italian team in Mourinho's two years there whilst his Real Madrid side won La Liga in dominant fashion. The Spanish giants set the record for most games won in a La Liga season, most goals scored, highest goal difference (+89) and obtained the most points of anyone in any of the top European leagues with an impressive 100 to their name.
With a host of names floating about the media scene and the Premier League blown wide open it is left to the imagination to see how far Mourinho can take Manchester United but it is safe to say that those drawn to sleep through boredom will be more than awake in the Theatre of dreams next season.